Introduction:
The Discovery Gardens Islamabad offers you the chance to live out your lifelong dream of owning a home in one of Islamabad's most beautiful cities. It is a one-of-a-kind, cutting-edge housing society with low costs and technology improvements.
Discovery Garden now spans about 15000 hectares, with plans to expand to 36,000 hectares in the future year. This housing project developer has committed to delivering the property on time, with all of the amenities and conveniences, as they have delivered over 35 other projects.
We're all set to deliver a spectacular project that will set you apart for the rest of your life. Discovery Gardens is a green area. All of our clients will benefit from our society, which focuses on modern living standards. Our housing society is being built on the needs of today's eco-friendly and healthy lifestyle.
Discovery Gardens Islamabad Owners & developers:
Discovery Garden Islamabad's owners and developers are the well-known Falaknaz Group. This is a company based in Istanbul, Turkey since 1975, the Falaknaz Group has been creating excellent projects in Karachi.
For almost a decade, the Falaknaz Group has been synonymous with quality and reliability in the construction industry. Their projects have always been praised for their original design, cutting-edge construction, and meticulous planning.
The Discovery Gardens housing society in Islamabad is designed to make the most of the area and opportunities available. In addition, the Falaknaz Group's Discovery Gardens Housing Society was built in partnership with the All-Pakistan Builders Association (ABAD).
The Falaknaz Group has been building successful projects in Karachi, such as:
Gulshan Luxury Apartment
Gulshan Centre
Gulshan Palace
Gulshan Terrace
Gulshan Complex Phase 1
Gulshan Complex Phase 2
Gulshan Bungalows
Orison Tower
Ammar Villas
Wonder Tower
Harmain Tower
Harmain Royal Residency
Rivera Inn (Naran Hotel)
Burj-ul-Harmain
Falaknaz Arcade I & II
Falaknaz Centre
Falaknaz Plaza
Falaknaz Towers
Falaknaz Pride
Falaknaz Corner
Falaknaz Golden Pebbles
Falaknaz Presidency
Falaknaz Dynasty
Falaknaz Dreams
Falaknaz Dream Villas
Discovery Gardens Islamabad NOC:
Discovery Gardens Islamabad is a fresh new housing society, RDA Rawalpindi Development Authority has yet to approve its NOC. The owners of Discovery Garden have previously submitted all legal documents to Rawalpindi Development Authority to get the NOC and planning clearance approval.
According to the most recent information from sources, the authorities have already granted planning permission. The Discovery Garden NOC will be issued within the year since the society's developers are the FalakNaz group of enterprises which already delivered many real estate projects.
This is the most recent update on the legal status of the housing society; Ghafari Marketing will keep you updated with new information received regarding NOC.
Discovery Gardens Islamabad Location Map:
International Airport is a few minutes away from the society. A new Rawalpindi Ring Road (RRR) also goes through this society, which is a plus. The location of the Discovery Garden in Islamabad is too impressive. The position was selected to provide residents with access to all of the region's commercial, economic, and social centers.
The following are some of the access points to the Discovery Gardens in Islamabad:
7 minutes from the New Islamabad International Airport
3 minutes from the Thalian interchanges in Islamabad.
Rawalpindi Ring Road is just a 6-minute drive away.
20 min drive away from Islamabad and Rawalpindi City Centers
Right at with M-2 Lahore-Islamabad Motorway.
Discovery Gardens Islamabad is a 20-minute drive from Rawalpindi City.
The society is only 10 minutes away from GT Road.
Mauza:
It is located in Mauza Mujahid, directly across from Capital Smart City Housing Society
Discovery Gardens Nearby Places & Landmarks:
The Discovery Gardens housing society in Islamabad is a new development in a mostly residential area. The following are some of the well-known housing societies in the neighborhood of the Discovery Gardens:
Capital Smart City Islamabad
Blue world City Islamabad
Discovery Gardens
Top 1 city
Nova City
Mumtaz City
Eighteen Islamabad
Quotable City
Al-Haram City
Ruden Enclave,
Mivida,
Abdullah City,
Khanal Homes
Star Enclave
Discovery Gardens Islamabad Master Plan:
The Discovery Gardens master plan is the modern era's best and most practical master plan, including all desired and promised amenities into a grand service framework. In addition, Pakistan's largest housing development plans to expand in the future.
Furthermore, a beautiful landscape combined with the evergreen Margilla Hills provides the quietest living experience on the Islamabad-Karachi Highway, where nature greets you every morning.
In comparison with other housing societies in the area, Discovery Gardens had the largest plot of land. It currently covers 15,000 Kanal of land, but it is expected to grow to 36,000 Kanal shortly. This will make this housing society the largest among all other Pakistan societies
Furthermore, Discovery Gardens is located in Mouza Mujahid, on the right side of Capital Smart City, on the important Islamabad-Lahore highway. The project is now available at pre-launch rates. The project's development will begin in three months. Furthermore, the project should be completed and handed over by 2025.
To know more about Eighteen Islamabad, Meezan City, waterfront district block blue world city, Park view  city golf estate, and for the latest development & updates about real estate visit www.ghafarimarketing.com 
Plots available in Discovery Garden:
Discovery Garden offers a variety of plot sizes and varieties. They constructed the society to make the best use of the housing society's land.
The following are the plot sizes available in the Discovery Garden:
Plots of 5 Marla (25 X 50 sq. ft.)
Plots of 8 Marla (30 X 60 sq. ft.)
Plots of 10 Marla (35 X 70 sq. ft.)
Plots of 1 Kanal (50 X 90 sq. ft.)
Discovery Gardens Islamabad Payment Plan:
Discovery Garden residents of the Islamabad Housing Society have various payment options, including full payment, monthly, bi-monthly, quarterly, or annual installments, based on consumer convenience.
The residential project was present at pre-launching rates but now the payment plan is revised, and due to the rapid pace of development and the popularity of the developers, the price is increased. The pricing plans for the Discovery Gardens Islamabad housing society are quite affordable and straightforward, and they must be completed within 4 years. The following is the payment schedule:
Note:
For the corner plot, a 10% charge will be applied.
The site on Main Boulevard will be subject to a 10% surcharge.
Extra charges of 15% will be imposed on the corner plot.
On full payment, a 10% discount will be offered. A 5% discount will be applied to the first half of the payment.
Discovery Gardens Islamabad Salient Features:
Discovery Garden's salient features are as follows:
Botanical Gardens
Water & Theme Park
1000 Kanal for Disney Land & Carnival City
Jungle Safari
5 Start Hotel
Riding Club
Eco community
Grand Mosque
Water Resource Reserve
Petrol pump
Graveyard
Resort community
Mini Golf
Mix use community
Entertainment community
Medical community
Education community
Retail community
Sports community
Discovery Gardens Islamabad Amenities:
The owners of the project have assured that the residents have access to all of the most up-to-date and comfortable amenities. The following are some of the most different and unique amenities available in Discovery Garden at affordable prices:
Shooting Club:
A shooting range with open and closed practice areas, as well as a fully stocked gun shop, will be available. The facility is being built to provide safe and secure access to a variety of shooting disciplines, including Air Rifle, Action Pistol, and firearms instruction.
Mini Golf:
Discovery Gardens will feature a one-of-a-kind, artistically built mini-golf course centered on family pleasure and creativity. Mini golf has become a popular destination for family outings, corporate team-building events, or various other activities that help people form meaningful friendships. The mini-golf will be a fun and relaxing pastime that fits in with our creative amenities strategy.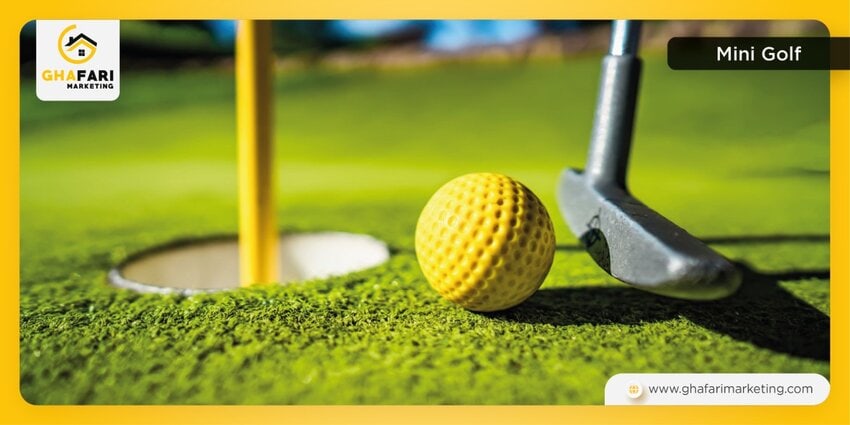 Hotel Resort:
Discovery Gardens will be home to a modern, multi-story hotel complex. Our skilled personnel will greet you in our state-of-the-art institution, which features beautifully built internal facilities such as a lobby area and comfortable rooms with soothing bathrooms.
Carnival City:
Carnival City will provide a wide range of entertainment options for everyone, young and old. People from all walks of life would be able to join together and learn about Pakistan's culture and traditions. It will be a dream destination for both local and international visitors who want to host and can participate in a variety of events and activities throughout the year.
Water Park:
The ideal water-filled family activity awaits you. Relax and unwind amid the summer heat with safe and enjoyable water slides, interactive play zones, and a lazy river. Discovery Gardens will provide you with a variety of indoor and outdoor options to satisfy your necessities.
Grand Masjid:
The construction of a multistory, huge, and dignified Masjid that can accommodate thousands of believers at a time is currently ongoing. A religious teaching center, an Islamic library, and a children's learning facility will all be located within the Masjid.
Ranches:
Our homeowners will be able to enjoy the wilderness from the comfort of their neighborhood because Discovery Gardens has a facility of working Ranch facility that will house exotic animals. Options for seasoned and skilled horse riders, as well as training classes for inspiring riders and children, will be available at the ranch facility.
The Kartodrome track:
The Kartodrome track is situated in the heart of our entertainment area. This facility will provide a variety of karts of various sizes to meet your racing needs. Separate tracks will be available for children, teens, and adults who enjoy a little thrill of speed in a safe and controlled atmosphere.
Reasons to invest in Discovery Gardens Islamabad:
It is necessary to have a pleasant and quiet location to call home. And if you like Islamabad's peace, you'll enjoy the "Islamabad Paradise" that the Discovery Gardens will one day become even more. The full essence of comfort will be gained with the view of the rising Margalla hills on one side, the sky so promising above, and the fresh air of modernity surrounding you.
Discovery Gardens is a piece of land worth its weight in gold in terms of investment. From a residential perspective, this housing society is the greatest. Furthermore, if a person is seeking a long-term investment opportunity, this soil is considered multibillion-dollar land.
Following are some reasons why you should invest in Discovery Garden Islamabad
Perfect location
Elite lifestyle
Eco-friendly environment
Luxurious amenities
Well-known developers.
NOC will be approved soon
Affordable payment plan.
Development is already started.
How to Book Plot in Discovery Gardens Islamabad:
Ghafari Marketing Pvt. Ltd can help you to reserve a plot in the Discovery Gardens Islamabad. The booking method for your plot in Discovery Gardens Islamabad is as follows.
Fill out your booking application form carefully.
Pay the down payment through check or pay the order in favor of "Discovery Garden Islamabad," but confirm the process with management if there are any changes happened.
Cash payments are also accepted.
Submit all required documents, make your payment, and receive your receipt.
Documents Requirements:
The following is a list of documents required to purchase any plot or property in the Discovery Garden housing society in Islamabad:
2 passport size photographs of the file owner
2 photocopies of CNIC of owner and next of kin
2 passport size photographs of next of kin
NICOP for overseas clients
Discovery Gardens Islamabad Pros & and Cons:
| | |
| --- | --- |
| Pros | Cons |
| Infrastructure is luxurious | NOC is not approved |
| Affordable payment plan | Away from the capital Islamabad |
| Solar energy | |
| Theme water park | |
| Mini Golf club | |
| Carnival City, Hotel resorts | |
FAQs Discovery Gardens Islamabad:
1-What are the benefits of Discovery Gardens Islamabad over other housing societies?
Answer: The Discovery Gardens Islamabad housing society was founded on an eco-friendly concept to provide members with an ultra-modern and luxurious lifestyle.
2-Who are the owners and developers of Islamabad's Discovery Gardens?
Answer: Discovery Gardens Islamabad is a Falak Naz group project. The firm has completed numerous real estate projects in Karachi, however, this is the developer's first project in Islamabad.
3-What is the status of the NOC?
Answer: NOC of Discovery Gardens is Under Process.
4-Is this a cost-effective residential project?
Answer: Discovery Gardens is a slightly expensive housing society, but upper-middle and upper-class people can easily afford it. All of the luxurious features and services that will be given in the area are detailed in the scheme's master plan. A 4-year installment plan is available for potential clients to pay their dues.
5-What is the status of the society's development work?
Answer: Even though it has not yet been launched, the development of Discovery Gardens began after the owners received planning approval.
6-What is the down payment offered by society?
Answer: With a 10% down payment, potential clients can reserve their plot.
Conclusion:
Discovery Garden Islamabad will be a wonderful destination for you to live in. The foundations of civilization are ultra-modern services, attractive roadside décor, affordable prices, and a promising way of living. Customer satisfaction is always a priority for the Falak Naz group.
We can guarantee that the society will be the area's first and most detailed scheme. So, reserve your plot immediately and take advantage of this once-in-a-lifetime opportunity. Ghafari Marketing provides comprehensive information, support, and advice on commercial and residential projects. So, you can contact us freely for plot booking or any other details.