Introduction
Meezan City Islamabad is a brand-new residential development in Islamabad. Meezan City Islamabad is a worthwhile investment among the many housing societies near New Islamabad International Airport. It is determined to establish a prestigious housing society that will raise your living standards to unmatched levels.
It has an ideal location where luxury, comfort, and excellence all come together. Meezan City is created for people who want to live in a calm, modern, and luxurious environment that is also inexpensive. We are currently building the city to meet the necessities of modern living.
Meezaan city owners and developers:
Meezan City Islamabad's owners and developers are Quetta Shaheen Builders and Green Marketing. It's their joint project. Quetta Shaheen Builders promises to provide you with an affordable residential plot.
They are committed to providing a high-quality standard of society in Islamabad. Quetta Shaheen Builders brings the greatest revolution in the market to invest in Real Estate; keeping in mind the rates of residential plots in Islamabad and Rawalpindi, they provide you affordable rates from the rest of them. Meezan City Islamabad has currently entered the market. They have a great chance of providing a large Return on Investment (ROI).
Meezaan city Location:
The Meezan City Islamabad is located near the New Islamabad International Airport, the Chakri Interchange, the Lahore-Islamabad Motorway, and the CPEC Project route. All areas of Rawalpindi and Islamabad are easily accessible from this location. The Meezan City Islamabad is located at Dehri Village Road, near M-2 Motorway.
It's also close to the CPEC Route, and this housing society is the ideal real estate investment for all investors. Secondly, investors and residents always look for a location where all basic requirements are fulfilled, so Meezan City Islamabad is the best option.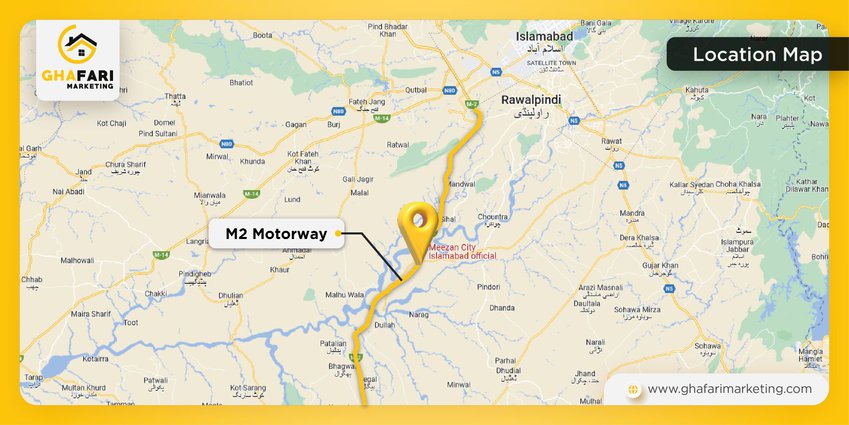 Meezan City has the following access points
Rawalpindi Cadet College is around 10 minutes away.
Rawalpindi Ring Road is 6 kilometers distant.
The Thalian Interchange on the Islamabad-Lahore Motorway is 10 kilometers away.
The Chakri Interchange on the Islamabad-Lahore Motorway M-2 is 2 kilometers distant.
Srinagar highway is just a 29-minute drive away.
Meezaan city Places & Landmarks:
Meezan City Islamabad is surrounded by many Landmarks and nearby places.
Nova City Islamabad
Blue Worl City Islamabad
Discovery Garden Islamabad
Seven Wonder City Islamabad
Meezaan city Islamabad NOC:
All investors are concerned about the NOC because it is important as a rise and fall of any Society. As a result, the developers of this real estate project have applied for legal status, and the RDA will shortly issue them a NOC.
So, we may say that investing now will be feasible because the price of the plots will rise once the housing society is authorized. You can check Ghafari Marketing's official website for the most up-to-date information on the NOC status of this housing development. If you want to know more about Kingdom Valley Islamabad, Paradise City Nowshera, 7 wonders City Islamabad, Park View City Golf Estate, visit www.ghafarimarketing.com 
Meezaan City Islamabad Master Plan:
Meezan City Islamabad's master plan has been carefully prepared to make it a world-class project. Everything has been perfectly planned for the residents.
The entire society is separated into several blocks to maximize the project's performance. The overall area of Meezan City Islamabad is 15000 Kanal.
The master plan is a one-of-a-kind work of art in which all experts have excelled. Furthermore, a variety of blocks are accessible to satisfy the needs of investors and residents.
Meezan City Islamabad has the following sectors, including:
Sector A
Sector B
Sector C
Sector D
Meezan City Islamabad has several residential plots available. It has provided residential plots in the following categories in the pre-launch stage.
5 Marla
7 Marla
10 Marla
1 Kanal
2 Kanal
Islamabad's Meezan City Farmhouses are not yet available. The developers, on the other hand, intend to make the most of the natural surroundings. To achieve this, it has chosen to provide farmhouses at a later date. The following categories of farmhouses will be available in Meezan City Islamabad.
Commercial areas are in high demand among locals, allowing investors and people to prosper financially. The commercial area is the backbone of any project. A great commercial zone is planned for Meezan City Islamabad. Because the large parking space is the site where your business will receive the push it needs. In Meezan City Islamabad, commercial plots are offered in the following categories.
Meezaan city Islamabad Payment Plan:
When making any investment, all investors seek the first and most important aspect, economic investment. Every person's dream is to live in their ideal home. As a result, this housing society provides a high-end living experience at an affordable price.
There is also an installment plan to make things easier for investors and residents. As a result, investors from all walks of life are welcome to invest here.
Meezan City Islamabad's pre-launch price plan consists of a 4-year installment plan. It has 48 monthly installments and 8 half-yearly installments in total. The reservation of plots in Meezan City Islamabad begins with a 10% down payment.
Here are the pre-launching rates of Meezan City Islamabad:
Meezaan City Salient Features:
Following are the salient features of Meezan City Islamabad:
Theaters and Cinemas
Commercial and Technology Hub
Parks and Sports Complex
Easy Access
Safety and Security
24/7 Water, Gas, and Electricity
Gated Community
Water Resources
Medical Facilities
Friendly Environment
Education Complex
Sewerage and waste disposal system
Affordable rates
Easy Access
Meezaan city Islamabad Amenities:
The Meezan City Islamabad offers modern amenities and conveniences at affordable prices. The amenities are an important factor of any modern luxurious society, especially for a residential project.
The developers have set a large portion of the land for the development of green spaces such as parks. Meezaan City Islamabad is regarded as the most luxurious society, complete with modern pleasures and conveniences.
Eco-Friendly Environment:
The society will offer an eco-friendly environment close-to-nature lifestyle with all modern conveniences. The closeness to nature will provide a unique experience not seen before in Pakistan's housing societies.
Health Services:
The developers have paid special attention to society's health services. The developers plan to build state-of-the-art international hospitals and clinics for this reason. The hospital's emergency room will be open for residents 24/7 and have staff and doctors all the time.
Water Reservoir:
Residents' water demands have been noticed by society. Water reservoirs will be constructed, storing a large volume of water used by residents for everyday chores.
Secondly, filter plants will be a part of society to ensure that clean drinking water is available.
Gated Community:
Because the community is surrounded by a boundary wall, security is necessary for this housing society. Furthermore, the availability of CCTV cameras would increase humanity's security concerns. Security guards will be on duty 24/7 to ensure that the community is not inconvenienced or unsafe.
Business Opportunities:
The housing scheme's commercial sector will inspire investors to launch their businesses and startups. Furthermore, investors might turn a profit by flipping the property or starting their dream business at a low cost. Finally, this housing society offers an installment program to assist investors in furthering their brand development.
Grand Mosque:
All investors check for religious obligations before engaging in the real estate market. As a result, for investors and residents, the developers of this housing society constructed a beautiful Mosque where all residents may easily fulfill their religious obligations.
Reasons to invest in Meezan City Islamabad:
There are many numbers of reasons to invest in Meezaan City Islamabad that will provide benefit to the residents and profit for the investors, they will have a high quality of living standards in this society.
Location is a prime feature of any society
Easily accessible from many areas.
The payment plan is affordable
The development process is going at a high pace.
NOC will be approved soon
How to Book Plot in Meezaan city Islamabad:
The plot booking procedure for Meezan City is at pre-launch rates, investors and residents alike are interested in purchasing this reasonable payment plan.
Download Application Form
Read all the Terms & Conditions mentioned on the form
Print the Application form
Fill all the information on the form carefully
Attach CNIC of applicant and next of kin
2 passport size photographs
You can pay the total amount (down payment + processing fee) by Pay Order/ Draft or Online Transaction in the favor of "Meezan City"
Cash payment is also accepted
Submit all the required documents and get your receipt.
Pros and Cons of Meezaan City Islamabad: 
| | |
| --- | --- |
| Pros | Cons |
| All basic and modern amenities are available | Perception of rates will be high |
| 24/7 gas, water, and electricity are available | |
| Health care units | |
| Shopping Malls | |
| Restaurants and cafes | |
| Security System | |
FAQs of  Meezaan City Islamabad:
1-What is Meezan City Islamabad?
Answer: Meezan City Islamabad is a housing society created to provide residents with a unique living experience at an affordable price. It has been constructed by a team of engineers, architects, and other professionals with years of experience.
2-What is the location of Meezan City Islamabad?
Answer: Meezan City Islamabad is located near the Islamabad International Airport, Rawalpindi Ring Road, and the CPEC route
3-Who are the owners of Meezan City Islamabad?
The developers of Meezan City Islamabad are Quetta Shaheen Builder and developing this project with the collaboration of Green Marketing
4-What is the NOC status of Meezan City Islamabad?
Answer: Soon NOC of Meezan City Islamabad will be approved by RDA.
5-Is this society having an option of an installment program?
Answer: Yes, Meezan City Islamabad has the option of a monthly installment program.
6-This society is profitable for investment or not?
Answer: Meezan City Islamabad is a housing society created to provide residents with a unique living experience at an affordable price. It has been constructed by a team of engineers, architects, and other professionals with years of experience.
Conclusion:
Meezan City Islamabad is one of the newest housing societies in the city. The beginning stage of the investment is the most important. The pre-launch phase for City Islamabad has begun.
Due to its low costs and easy accessibility, the plots are quickly running out. You should reserve a plot in this city as soon as possible.
Soon, the price of residential and commercial plots in Meezaan City Islamabad is expected to rise. So, take advantage of this once-in-a-lifetime opportunity. Ghafari Marketing will help you with bookings and all the information.